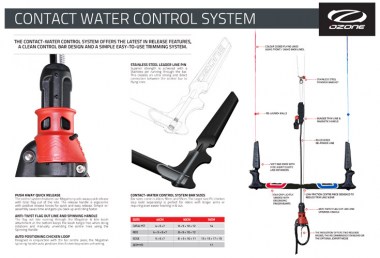 2016 bar with the latest 2018 model kite lines included (not pictured).
The Contact-Water Control System offers the latest in Release features, a clean control bar design and a simple easy-to-use trimming system.
Push Away Quick Release
The control system features our Megatron push-away quick release with total flag out of the kite. The release handle is ergonomic
with positive release forces for quick and easy release. Simple reassembly saves time and gets you back up and riding faster.
Anti-twist Flag Out Line and Spinning Handle
The flag out line running through the Megatron & kite leash attachment at the bottom keeps the leash tangle free when doing
rotations and manually unwinding the centre lines using the Spinning Handle.
Auto Positioning Chicken Loop
Designed in conjunction with the bar centre piece, the Megatron spinning handle auto positions the chicken loop when unhooking.
Contact-Water Control System bar sizes
Bar sizes come in 45cm, 50cm and 55cm. The larger size PU chicken loop (sold separately) is perfect for riders with longer arms or
requiring even easier hooking in & out.