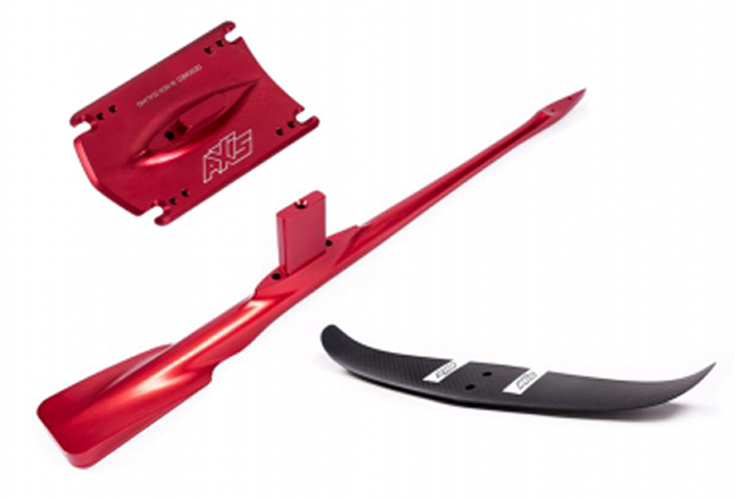 2019 Axis S Series Components & Rear Wing
Array
The Axis S Series is designed for SUP and Surf
Included in the package is a regular rear wing, base plate, s-series fuselage, screw set, tools and tef gel.
Add a Mast and Front Wing for a Complete Set
Picking a size.....
The 50 Rear Wing is better for the larger front Wings and SUP foiling, while the 44 Rear Wing is ideal for the smaller front wings, for a looser feel and quicker turns.
Mast Size - 60cm is a great beginner mast size - as you get better you should consider 68cm or 75cm for the S-Series Foils.
Wing Size is detailed below
102cm Front Carbon Wing 
Recommended use:
Downwinders, small SURF and Pump, Wake, Big guy SUP/SURF
Suggested Rear Wing:
Rear Wing 50cm Regular Carbon
Rear Wing 50cm Anhedral Carbon
Rear Wing 44cm Regular Carbon
92cm Front Carbon Wing
Recommended use:
All round SUP, Downwinders, small SURF and Pump, Wake
Suggested Rear Wing:
Rear Wing 50cm Regular Carbon
Rear Wing 50cm Anhedral Carbon
Rear Wing 44cm Regular Carbon
82cm Front Carbon Wing
Recommended use:
Medium size wave SUP / SURF and Pump,
Faster Speed Downwinders,
Wake foiling,
Ultra lightwind kite foiling
Suggested Rear Wing:
Rear Wing 50cm Regular Carbon
Rear Wing 50cm Anhedral Carbon
Rear Wing 44cm Regular Carbon
75cm Front Carbon Wing
Recommended use:
Medium/Large size wave SUP,
All size wave SURF
Wake foiling,
Lightwind kite foiling / carving / surfing
Suggested Rear Wing:
Rear Wing 44cm Regular Carbon
68cm Front Carbon Wing
Recommended use:
Medium / Large wave SURF
Allround kite foiling / carving / surfing
Suggested Rear Wing:
Rear Wing 44cm Regular Carbon